The Nutcracker and the Mouse King
by E.T.A. Hoffmann
The Nutcracker and the Mouse King is a classic story written by German author E.T.A. Hoffmann in 1816. This story has become the basis for the famous ballet "The Nutcracker" composed by Pyotr Ilyich Tchaikovsky.
The ballet premiered in St. Petersburg, Russia, in 1892. It has since become one of the most famous works in the ballet repertoire, and includes the iconic "Dance of the Sugar Plum Fairy" and the "Waltz of the Flowers".
The Nutcracker - animated movie (1995)
Setting
The story is set on Christmas Eve in a quaint German town. The central character is a young girl named Marie Stahlbaum.
Characters
Marie Stahlbaum: The central character of the story - a young girl who becomes the heroine of the magical events that unfold on Christmas Eve.
Fritz Stahlbaum: Marie's mischievous younger brother.
Herr Drosselmeyer: A skilled toymaker and godfather to the Stahlbaum children. He plays a significant role in the story's events.
The Nutcracker: A wooden nutcracker in the shape of a soldier, a gift from Herr Drosselmeyer to Marie.
The Mouse King: The antagonist of the story, a fearsome and magical mouse who battles the Nutcracker.
The Story
"The Nutcracker" tells the story of a young girl named Marie Stahlbaum. Marie receives a magical nutcracker doll as a Christmas gift from her godfather, Herr Drosselmeyer, a mysterious and skilled toymaker. Marie becomes enchanted by the doll but is disappointed when her brother Fritz accidentally breaks it.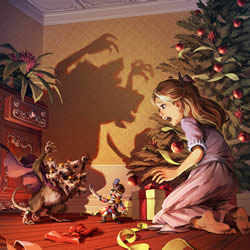 Later that night, Marie sneaks downstairs to check on her treasured nutcracker and falls asleep by the Christmas tree. As the clock strikes midnight, magical things begin to happen. The Christmas tree grows to an enormous height, and mice led by the villainous Mouse King invade the living room. The Nutcracker doll comes to life and leads an army of toy soldiers to battle the mice. Marie's intervention saves the Nutcracker, and he is transformed into a handsome prince.
The Prince whisks Marie away to the enchanted Land of Sweets on a journey that takes them through the Snow Forest, ruled by the Snow Queen and King, and into the realm of the Sugar Plum Fairy. Here, they are entertained by a series of fascinating dances, each representing a different type of sweet, including Spanish chocolate, Arabian coffee, Chinese tea, Russian candy canes, and more.
In the end, Marie awakens from her dream by the Christmas tree with the Nutcracker doll in her arms, leaving her to wonder whether the magical journey was real or just a dream.
"The Nutcracker and the Mouse King" is a tale of Christmas Eve that has inspired countless adaptations, emphasizing the spirit of the holiday season and the magic that can be found in the simplest of things.